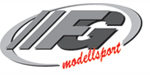 New competition chassis. Designed Under Formule France rules.
Delivered without RC system, nor body.
New race oriented RACELINE FF 2WD 530 Chassis.
• POM made upper front susp. arms
• POM made lower front/rear susp. arms
• POM made front cell
• POM made front and rear damper mounts
• 5mm chassis
• Large-diameter rear double disc brake
• Aluminium differential
• New rear stiffener providing symmetry on the right/left bending of the frame. Optimization of the motricity.
• Aluminium front and rear uprights
• Adjustable aluminium servo-saver
• Aluminium transmission mount
• Aluminium crown holder
• High capacity tuned pipe
• With Zenoah G230RC or G240RC engine
• Homologated air box and high capacity tuned pipe.

POM is a highly resistant plastic material with a memory effect.
Parts even deformed under load return to their original shape.
Very low center of gravity. Servos are fixed as low as possible to the chassis.