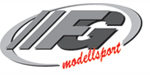 RC controlled Buggy motorised with Brushless Engine.
No RC system, no steering servo, no batteries and charger within.
The electric powered version of the legendary MARDER buggy is equipped with a powerful 1400kV 2800W brushless motor.
Power supply : 4S or 6S Li-Po battery pack.
In its entry level version 4S, the running time is about 15 minutes with lightning-accelerations and a top speed superior to the gas powered MARDER one.
In the 6S configuration, the E-MARDER is a true rocket ship !